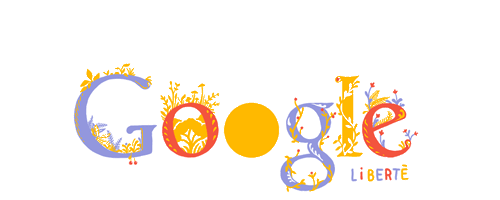 Courtesy of Google.fr. Courtoisie de Google.fr.
Hi everyone,
Today's first of two blog entries is a simple wish of happiness to my French followers and viewers! Happy Bastile Day! How will you be celebrating? Additionally, to those who are not French or do not otherwise commemorate the French Day of Independence, what do you know about Bastille Day and what do you think we as the rest of the world can learn from the French? All told, I will do more writing tonight as well. God Bless and thanks, y'all!
God Bless, like always
Michelle
Bonjour tout le monde,
Le premier des deux articles du blog concerne des vœux 'a mes amis français! Alors, Joyeux Jour de la Bastille! Comment est-ce que vous commémorerez la fête nationale? Pour ceux qui ne sont pas français ou ceux qui ne célèbrent pas la fête,  qu'est-ce que vous savez du jour et qu'est-ce que c'est que le reste du monde apprennent des Français? En conclusion, j'écrirai plus des paroles des chansons ou un poème court ce soir. Merci et Dieu vous bénisse!
Dieu vous bénisse, comme toujours,
Michelle